Presidential Welcome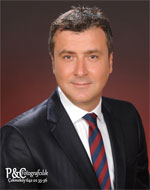 Dear Members, Distinguished Guests and Friends,
On behalf of the Councillors and the Program Committee of the European Society of Thoracic Surgeons, it is my pleasure to welcome you to Lisbon, the westernmost capital of Europe on the Atlantic Ocean, for the 23rd European Conference on General Thoracic Surgery. This will be our largest global reunion of general thoracic surgeons with 1,500 participants expected.
The outstanding program includes the lectures of special speakers, joint sessions with international scientific societies, breakfast sessions given by experts invited from all over the world, working group sessions and techno meetings. In addition, the program will include parallel sessions with a selection of the best of the submitted abstracts. This year we will host the 7th Joint Collaborative Post-Graduate course organised by Dirk Van Raemdonck and Alan Sihoe. I hope this course will attract the participants to highly interactive discussions and learning. This program would not be possible without the efforts of our organising Committee Chair and Director of Annual Meetings, Enrico Ruffini.
Stay tuned for our greatly anticipated special sessions on Wednesday morning. I highly encourage all of the participants to arrange their travel itineraries to stay through to Wednesday afternoon.
A program of this size requires a lot of planning. I would like to thank the members of the Program Committee for their continuous hard work. I would also like to thank the individuals and societies who have contributed to the organisation of the scientific sessions.
Your full and active participation will make this the most memorable conference. As we contribute our work and experience, we will develop new sources of collaboration and friendship. This will expand and advance our society into new dimensions. These memorable days filled with the exchange of knowledge, skills and ideas would not be possible without the generous support of our industry partners, who have been a part of all of the ESTS conferences.
It is my pleasure to invite you to join us in Lisbon, a wonderful city on the Atlantic coast with a Mediterranean atmosphere.