Welcome Message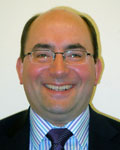 Dear Colleagues, Guests and Friends
It is my great pleasure to welcome you to Birmingham as the ESTS celebrates the 21st European Conference on General Thoracic Surgery.
In the Saxon 6th Century Birmingham was just one small settlement in thick forest - the ham (home) of the ing (tribe) of a leader called Beorma (Birm) .Geography played a major role in the transformation of Birmingham from a hamlet worth 20 shillings in 1086 into Britain's centre of manufacturing in the 20th Century. A dry site with a good supply of water, with easy access to coal, iron and timber helped Birmingham to develop a strong reputation as a metal working centre. By 1731 the population had grown to 23,000 and manufacturing business thrived. By the time of the Industrial Revolution Birmingham had become the industrial and commercial centre of the Midlands.
Birmingham's population is now around 1,036,900, making it Britain's Second City. It is a growing, multicultural city; there are more children than pensioners and the citizens from Pakistan, India and the Caribbean form a third of the population of Birmingham. It is a centre for medical research and technologies with University Hospital Birmingham being the world's largest acute care facility. The City has 5 universities with 64,000 students.
The meeting will be hosted by the International Convention Centre (the ICC) which is situated in the centre of the city. The ICC is a £200 million building officially opened by H.M. Queen Elizabeth II in 1991. It has world class convention facilities and, reflecting  the growing reputation of the meeting, has the largest auditorium and exhibition hall ever used by ESTS.
This will be a delegate-friendly meeting due to the central location of the venue. There are 5,054 bedrooms within walking distance of The ICC covering a wide range of trusted international hotel brands including: Hyatt Regency, Intercontinental Hotel Group, Rezidor Hotel Group, Accor Hotels and Millennium Hotels. There will be little need for any means of transport other than your feet as there are 200 restaurants in the city centre covering 27 international cuisines. There are also a phenomenal 1,000 shops in the city centre including major international brands: Selfridges and Harvey Nichols. But Birmingham is also a green city with more than 8,000 acres of parks and open spaces and is a growing leisure tourism and city break destination with over 30 million visitors each year from all over the World. There will be no shortage of things to entertain you once the educational events have ended!
This year the only social event will be the gala dinner, but we intend this to be an evening to remember.  It will be held again in the city centre, within walking distance of most hotels, at the historic Town Hall. Opened in 1834 as the finest music hall in the country, this Grade 1 listed landmark has been lovingly and painstakingly renovated at a cost of £35m re-opening in 2007. Its imposing neo-classical design dominates the City centre's Victoria and Chamberlain Squares and it contains a formidable 6,000 pipe organ which will form an impressive backdrop to the Gala Dinner awards.
Birmingham is a major transport hub. Birmingham International Airport (BHX) is the city's gateway to the world. It is easily accessible by train from New Street Station where you get off at Birmingham International for the airport and NEC. Birmingham airport has two terminals and serves over 40 different airlines and offers thousands of direct and indirect services across Europe.
Birmingham's rail network allows easy travel to nearby historic Warwick, with its famous castle or Stratford-upon-Avon, the home of William Shakespeare. Further afield, London is just over an hour away by direct train link from Birmingham city centre.
We hope this 2013 meeting will continue the upward rise of ESTS and be the largest and most international to date. The innovative Postgraduate Symposium will continue to entertain and inform, scientific sessions will be of world-class standard and popular video and techno meeting sessions will continue.
We feel sure that Birmingham 2013 will be remembered for many years as the date when ESTS became the premier global Thoracic Surgical Conference but also when the interests of the delegates came first and when an educational event was never so much fun.
We look forward to seeing you!
David Waller
On behalf of the ESTS Local Organizing Committee